Thanks to a generous donation made by Dr. Reva Gerstein's sons, Irving and Ira and their families on the occasion of her 90th birthday, Gerstein Crisis Centre established The Reva Gerstein Legacy Fund. The Fund was formed in 2007 and recommitted in 2017 on the occasion of Dr. Gerstein's 100th birthday. It was created to honour Dr. Gerstein's commitment to psychiatric survivors.
The fund is used to help projects that are run by and for psychiatric survivors. It reflects her interest in education, research, and other projects that support the independent spirit of the psychiatric survivor community. The fund is dispersed annually by a committee consisting of the Executive Director, representatives of the board and an outside representative from the psychiatric survivor community.
If you are interested in applying for a grant from the Reva Gerstein Legacy Fund, please contact the Executive Director, Susan Davis, at (416) 929-0149 ext. 222 or sDavis@gersteincentre.org
Guide for Submissions
Successful submissions include a variety of initiatives including tuition, art and film, educational, and small business support.
Proposals should have a budget of no more than $4000 (most grants are in the $500-$1500 range).
Applications should include contact information, a description of the initiative, and the budget.
All proposals should be mailed to Gerstein Crisis Centre, 100 Charles St. E, Toronto, Ontario, M4Y 1V3 or sent by e-mail to legacyfund@gersteincentre.org.
Follow-up conversations or meetings may also be arranged.
The process for application includes a letter of interest outlining the following;
A brief description of how the project achieves the goals of the Legacy Fund.
A short overview of the project or purpose for which assistance is requested (2 pages max).
A brief description of past projects that will indicate your ability to complete this endeavour.
A brief budget and time-line of activities (up to $4000 however most projects funded fall into the $500-$1500 range).
Alternative funding sources to complete the project if the Legacy Fund is unable to fund the whole budget.
The deadline for Reva Gerstein Legacy Fund submissions for 2023 has passed. Please check back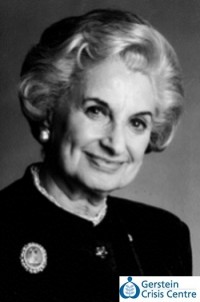 Reva Gerstein
Dr. Reva Gerstein has had a long and distinguished career as a psychologist, educator, and community leader. She has made an extraordinary impact on mental health and its related research. Educated as a psychologist, she received her Ph.D. from the University of Toronto in 1945.